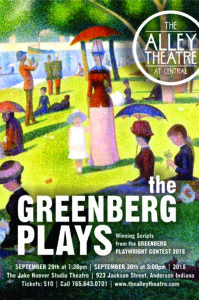 THE GREENBERG PLAYS
Saturday, September 29th • 7:30pm
Sunday, September 30th • 3:00pm
Please come enjoy the four winning scripts from the 2018 GREENBERG PLAYWRIGHT COMPETITION for local one-act plays. Tickets are $10 per seat and may be acquired by calling the BOX OFFICE MESSAGE CENTER (765.643.0701) or coming in to the CENTRAL CHRISTIAN CHURCH office (Tue-Fri / 9:00a-5:00p).
Winning Scripts performed this year:
"MEAN TO GOOD" by Aubrey Jeffries
"SCARS" by Lauren Schaffter
"DON'T DO IT" by Juli Lee
"THE DEALER SMILES" by Larry Adams
Click on the LINK for the SHOW PROGRAM (PDF)
PROGRAM – GREENBERG 2018
These performances are not included as a part of the GOLDEN TICKET / REGULAR SEASON.
The state-wide competition is held each year to encourage playwrights of all experience levels and ages. Each winner receives a cash prize of $500, a summer work-shop of their script and this final performance.
More details about the competition are available here:
CALL FOR SUBMISSIONS 2019

---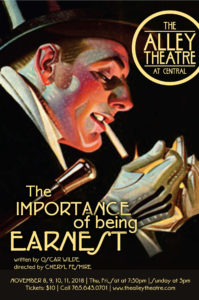 THE IMPORTANCE of BEING EARNEST
by Oscar Wilde
NOVEMBER
8, 9, 10, 11, 2018
Thu, Fri, Sat at 7:30pm
Sunday at 3pm
This classic Oscar Wilde play, subtitled "A Trivial Comedy for Serious People" is directed by Cheryl Fesmire. The play is a comedy farce in which the leading characters maintain false identities to escape burdensome social obligations. Set in Victorian London, the play works as a very popular satire of "Victorian Ways". Its high farce and witty dialogue have helped make it Wilde's most enduringly popular play.
THE CAST
John Worthing, J.P. – JOSH WILKINSON
Algernon Moncrieff – TYLER MARX
Rev. Canon Chasuble, D.D. – JAY WILE
Merriman – DAVID WHICKER
Lane – JEFF BARRANCO
Lady Bracknell – JULIA BRATTON
Hon. Gwendolen Fairfax – LEAH HODSON
Cecily Cardew – PIA DESIDERIA
Miss Prism  – CAITI WITHERS
Click on the LINK for the SHOW PROGRAM (PDF)
PROGRAM – EARNEST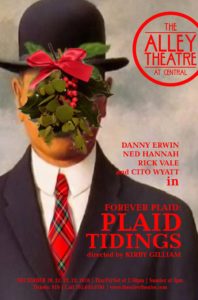 FOREVER PLAID: PLAID TIDINGS
by Stuart Ross
DECEMBER
20, 21, 22, 23, 2018
Thu, Fri, Sat at 7:30pm
Sunday at 3pm
Francis, Jinx, Smudge, & Sparky return to earth. The cast, and Director Kirby Gilliam, reprise the roles they portrayed in "FOREVER PLAID" at The Commons Theatre in Alexandria, two years ago. This time the boys return for another posthumous performance after a call from the heavenly Rosemary Clooney, who requests a little harmony into a very discordant world this Christmas.
THE CAST
Smudge – DANIEL ERWIN
Frankie – RICK VALE
Jinx – CITO WYATT
Sparky – NED HANNAH 
GREATER TUNA
by  Jaston Williams, Joe Sears, and Ed Howard
JANUARY
17, 18, 19, 20, 2019
Thu, Fri, Sat at 7:30pm
Sunday at 3pm
What do Arles Struvie, Thurston Wheelis, Aunt Pearl, Petey Fisk, Phineas Blye, and Rev. Spikes have in common? In this hilarious send-up of small-town morals and mores, they are all among the upstanding citizens of Tuna, Texas' third-smallest town. The long-running Off Broadway hit features two actors creating the entire population of Tuna in a tour de farce of quick change artistry, directed by Tiffany Jackson.
THE CAST
Cast Member #1 – ANDY PERSINGER
Cast Member #2 – RAYMOND KESTER
Cast Member #3 – MARTIN STAPLETON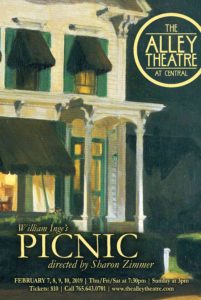 PICNIC
by William Inge
FEBRUARY
7, 8, 9, 10, 2019
Thu, Fri, Sat at 7:30pm
Sunday at 3pm
This Pulitzer Prize-winning play, directed by Sharon Zimmer, takes place on Labor day Weekend in the joint backyards of two middle-aged widows. Flo Owens lives in one house with her two maturing daughters, Madge and Millie, and a boarder. Helen Potts lives with her elderly and invalid mother. Into this female atmosphere comes a young man, whose animal vitality seriously upsets the entire group.
THE CAST
Helen Potts – MOLLY KRAUS
Hal Carter – SAM LYNCH
Millie Owens – GWYNN ZIMMER
Bomber – AIDEN STURGEON
Madge Owens – SKYLA BRUNO
Flo Owens – TAMARA PEACHY
Rosemary Sydney – CHRISTINA KING
Alan Seymour – ZACH PRUETT
Irma Kronkite – ALLISON CAGE
Christine Schoenwalder – RACHEL HOBART
Howard Bevans – JAY WILE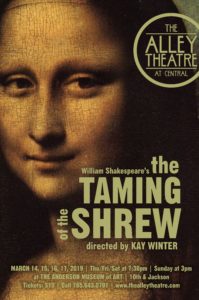 THE TAMING OF THE SHREW
by William Shakespeare
MARCH
14, 15, 16, 17, 2019
Thu, Fri, Sat at 7:30pm
Sunday at 3pm
Anderson Museum of Art
Set in Padua, and directed by Kay Winter, this is the story of Lucentio pursuing the fair Bianca. He is soon told by her father that her bad-tempered older sister, Katherine, must marry first. And so, with the help of friends, Lucentio encourages Petruchio, who has come to Padua to find a wealthy wife, to court Katherine and free Bianca to marry. Hilarious chaos ensues.
This production is presented at THE ANDERSON MUSEUM OF ART.
THE CAST
Katherina (Kate) Minola – TIFFANY JACKSON
Bianca Minola – JULI BIAGI
Baptista Minola – RICK VALE
Petruchio – TONY JOHNSON
Gremio – CITO WYATT
Lucentio – MATT ANDERSON
Hortensio – KEVIN WESTON
Grumia – KAREN SIPES
Tranio – ISAAC DERKACH
Biondello – TYLER MARX
Vincentio – RALPH SIPES
Widow – MICHELE MULLINS
Pedant – JOHN SKIPPER
Haberdasher – JEFF BARRANCO
Tailor – RHONDA TINCH-MIZE
Curtis – KATHERINE HOLTZLEITER
Joseph – TRACI PORTER
Peter – ABIGAIL JOHNSON
Nicholas – CHELSEA REINING
Philip – CYNDI SKIPPER
Click on the link below, for a PDF of our Season Brochure