Click here for our SEASON BROCHURE 2021-2022

Below we have listed our FIVE REGULAR SEASON SHOWS in addition to our TWO "ALLEY IN THE PARK" productions.
--- OUR TOWN
by Thornton Wilder
NOVEMBER
11, 12, 13, 14, 2021
Thu, Fri, Sat at 7:30pm
Sunday at 3:00pm
The Jake Hoover Theatre
The ALLEY is proud to present this classic and Pulitzer Prize Winning script by Thornton Wilder. Set on an almost bare stage, with the "Stage Manager" as storyteller, the everyday lives of the people in Grover's Corners are brought to the audience with warmth, humor, and passion. Premiered in 1938, this script is now a "staple" of the theatre world. KEVIN WESTON, THE ALLEY's Co-Director, makes his directing debut in this, our opening production.
STAGE MANAGER…Raymond Kester
Dr. GIBBS…Jay Wile
JOE CROWELL, Jr / SI CROWELL / BASEBALL PLAYER 1…Blake Thomas
HOWIE NEWSOME / BASEBALL PLAYER 2…Michael Smith
Mrs. GIBBS…Kayla Cange
Mrs. WEBB…Rhonda Tinch-Mize
GEORGE GIBBS…Ian Miller
REBECCA GIBBS…Lilly Thomas
WALLY WEBB…Dash Jones
EMILY WEBB…Skyla Bruno
Prof. WILLARD / MAN AMONG THE DEAD…Jim Hunter
Mr. WEBB…John Skipper
WOMAN IN THE BALCONY / Mrs. SOAMES…Sherri Thornton
MAN IN THE AUDITORIUM / JOE STODDARD…Elmore Hammes
LADY IN BOX / Mrs. CARTER…Teresa Dennis
SIMON STIMSON…Andy Persinger
CONSTABLE WARREN…Mike Romack
SIMON STIMSON…Andy Persinger
CONSTABLE WARREN…Mike Romack
--- A CHRISTMAS CAROL
a musical adaptation by RICK VALE
from the novella by CHARLES DICKENS
DECEMBER
10, 11, 12, 16, 17, 18, 19, 2021
Thu, Fri, Sat at 7:30pm
Sunday at 3:00pm
The Jake Hoover Theatre
Rick Vale's script and music of "A CHRISTMAS CAROL" has been performed in Anderson for over 30 years. Now, with updated edits, THE ALLEY THEATRE presents an all new production of this classic Charles Dickens novel for our December production. RICK VALE will direct the ensemble who, each playing several characters, come to life in the library of Charles Dickens himself (who also tells the story). ADDED PERFORMANCE DATES for this PRODUCTION.
CHARLES DICKENS…Kevin Weston
EBENEZER SCROOGE…Andrew Persinger
BOB CRATCHIT / MR. FEZZIWIG / PARTY GUEST…Scott McFadden
GHOSTS OF MARLEY, CHRISTMAS PAST, CHRISTMAS PRESENT
…Ronn Johnston
FRED / THE UNDERTAKER…Tyler Marx
YOUNG EBENEZER / PARTY GUEST / YOUNG MARRIED MAN…Josh Wilkinson
JO / GENTLEWOMAN / PARTY GUEST / MAID…Karen Sipes
TINY TIM / BOY WITH SLEIGH / URCHIN…Connor Franklin
YOUTH EBENEZER / MR. WILKINS / PETER CRATCHIT / URCHIN
…Brentin Waugh
SOLICITOR / BELLE / ABIGAIL…Joanna Webb
MRS. CRATCHIT / MRS. FEZZIWIG / PARTY GUEST…Jill O'Malia
FLORA / LAUNDRESS / YOUNG MARRIED WOMAN / PARTY GUEST
…Jamie Conway
MARTHA CRATCHIT / CHARWOMAN / PARTY GUEST…Sara Wilkinson
FAN / BELINDA CRATCHIT / URCHIN…Briella Conway
LUCY CRATCHIT / URCHIN…Raya Conway
FAUNA / MAID / PARTY GUEST…Taylor Williams
MAID / PARTY GUEST…Allison Cage
--- THE ELEPHANT MAN
by Bernard Pomerance
JANUARY
20, 21, 22, 23, 2022
Thu, Fri, Sat at 7:30pm
Sunday at 3:00pm
The Jake Hoover Theatre
Based on the life of John Merrick, this Tony- Award-Winning play is our 3rd show of the season. ANDREW PERSINGER directs the story of a horribly deformed young man – the victim of rare skin and bone diseases – as he evolves from a freak attraction in traveling sideshows to an urbane sophisticate…through the care of London's celebrated young physician Frederick Treves. Later adapted for the award-winning film, this script is certain to move you. 
DR. FREDERICK TREVES/BELGIAN POLICEMAN…Tyler Marx
CARR GOMM/CONDUCTOR…Raymond Kester
ROSS/BISHOP WALSHAM HOW/SNORK…Dr. Jay Wile
JOHN MERRICK…Josh Wilkinson
PINHEAD MANAGER/POLICEMAN/WILL/LORD JOHN…Tony Johnson
MISS SANDWICH/PRINCESS ALEXANDRA/COUNTESS/PINHEAD
…Tiffany Jackson
MRS. KENDALL/PINHEAD…Lisa Foster
DUCHESS/PINHEAD…Cyn Skipper
NURSE/ORDERLY…Michele Mullins
---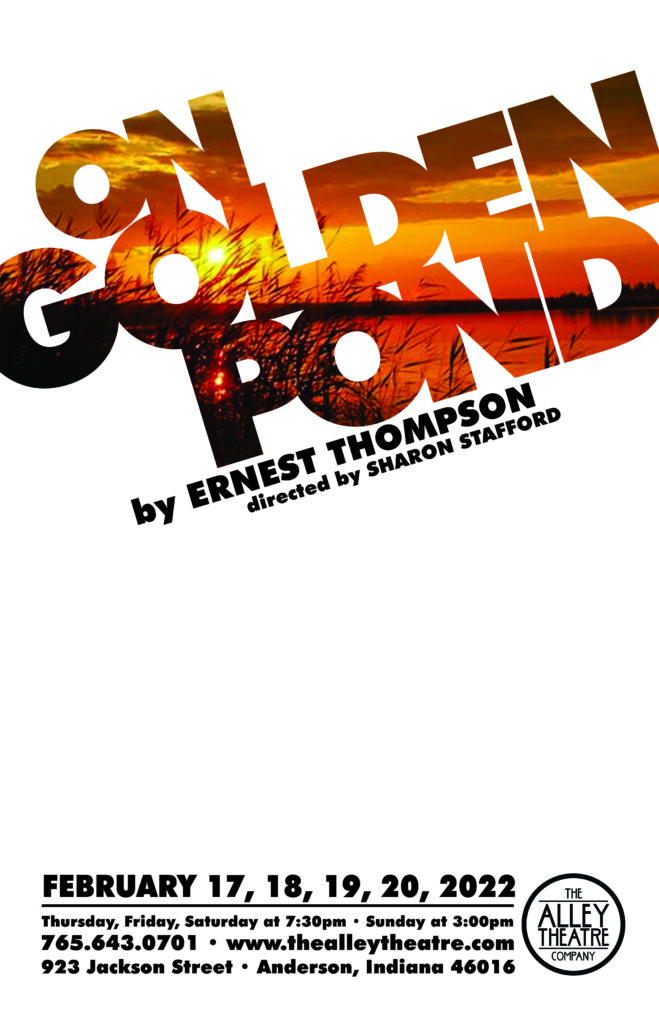 ON GOLDEN POND
by Ernest Thompson
FEBRUARY 17, 18, 19, 20, 2022
Thu, Fri, Sat at 7:30pm
Sunday at 3:00pm
The Jake Hoover Theatre
In this remarkable love story, Ethel and Norman Thayer return to their summer home on Golden Pond for the forty-eighth year. Norman is tart-tongued and observant as ever. Ethel is the perfect foil for Norman. When their divorced daughter & fiancé visit to drop off his teenage son for the summer, the Thayers gain the grandson they always wanted…along with some teenage awareness and slang. SHARON STAFFORD directs this amazing script.
NORMAN THAYER, JR…Kevin Weston
ETHEL THAYER…Molly Kraus
CHARLIE MARTIN…Jeff Barranco
BILL RAY…Andy Persinger
BILLY RAY…Blake Thomas
CHELSEY THAYER WAYNE…Lisa Foster
--- TWELFTH NIGHT
by William Shakespeare
MARCH 10, 11, 12, 13, 2022
Thu, Fri, Sat at 7:30pm
Sunday at 3:00pm
The Anderson Museum of Art
The ALLEY welcomes RONN JOHNSTON, seasoned director and actor, at his debut as director at THE ALLEY. He will set Shakespeare's magical play in, once again, THE ANDERSON MUSEUM OF ART. Love, shipwrecks, and mistaken identities fill this classic play, thought to be written as celebration for the end of the Christmas Season (12th Night: the 12th Day of Christmas).
VIOLA…Kayla Cange
ORSINO…Jay Hinkelman
OLIVIA…Erynn Erwin
MALVOLIO…Tony Johnson
SIR TOBY BELCH…Sean Smith
SEBASTIAN…Sam Lynch
ANTONIO…Aaron Jones
FESTE…Rick Vale
MARIA…Tiffany Jackson
SIR ANDREW AGUECHEEK…Tyler Marx
VALENTINE/CAPTAIN…Raymond Kester
--- THE GREENBERG COMPETION
Special Presentation of
THE DEALER SMILES
a film based on a winning GREENBERG script by LAURENCE ADAMS
APRIL 9th at 7:30pm
APRIL 10th at 3:00pm
The Jake Hoover Theatre
Because we "lost" one year of GREENBERGS this last year, we will have no plays to present in 2022. But happily, we are so pleased to present a film from LARRY ADAMS winning 2018 script, "THE DEALER SMILES".
The film will play 2 nights in the JAKE HOOVER THEATRE (where THE ALLEY performs), and a "chat with the playwright & actors" will follow each night.
"THE DEALER SMILES"
a SILO CINEMAWORKS and TWO FISH PRODUCTION
starring LAURENCE ADAMS & JAIME JOHNSON
in association with PERFECT CUT PRODUCTIONS
edited by NATHAN CROWDER &LAUREN McCLAIN
director of photography EVAN RICHARDSON
music by NATHAN CROWDER
executive producer LAURENCE ADAMS & JAIME JOHNSON
produced by NATHAN CROWDER & LAURENCE ADAMS
story by LAURENCE ADAMS
screenplay by NATHAN CROWDER
directed by NATHAN CROWDER
--- An "Alley in the Park" production
THE MOUSETRAP
by Agatha Christie
JUNE 10, 11, 12, 2022
Fri, Sat at 7:00pm
Sunday at 3:00pm
Gray's Park in Anderson
2901 North Madison Avenue
Come see the longest-running play in history! This very, very, popular murder-mystery has been playing to full houses in London since 1953, and only closed last March because of the pandemic. This classic, directed by first-time ALLEY THEATRE director ZARAH SHEJULE, will entertain and captivate you, as only Dame Agatha can!
CHRISTOPHER WREN…Tyler Marx
MOLLIE RALSTON…Joanna Webb
GILES RALSTON…Sam Lynch
MRS. BOYLE…Chrissi King
MAJOR METCALF…Tom Smith
MR. PARAVICINI…Tony Johnson
SERGEANT TROTTER…Aaron Jones
MISS LESLIE CASEWELL…Laurel Clark
---
An "Alley in the Park" production
THE TEMPEST
by William Shakespeare
AUGUST 5, 6, 7, 2022
Fri, Sat at 7:00pm
Sunday at 3:00pm
Gray's Park in Anderson
2901 North Madison Avenue
This astounding comedy-tragedy begins with a storm at sea and ends with a "masque"-play-within-a-play, with a remote island in-between!
Filled with magic, music and memorable lines, RICK VALE directs this late-summer production to end our 2021-2022 year with wine and song!
PROSPERO…David Mosedale
MIRANDA…Sahara McIntire
CALIBAN…Jean Rice
ALONSO…Kevin Whitmore
ANTONIO… Kevin Weston
FERDINAND…Sam Lynch
GONZALO…Tony Johnson
TRINCULO…Jeff Barranco
STEPHANO …David Whicker
ARIEL…Rhonda Tinch-Mize
SEBASTIAN…Jay Hinkelman
ADRIAN…Mike Romack
FRANCISCO…Cito Wyatt
BOATSWAIN…Garrett Ogle-Short