NOTICE: For the safety and health of our AUDIENCE and ACTORS; because of COVID-19 we have moved our previously-planned first two shows of the REGULAR SEASON to the 2021-2022 Season, and  adjusted the rest of our season to accommodate our audience and actors. 
Click here for our "ADJUSTED" SEVENTH SEASON BROCHURE!
SEASON BROCHURE 2020-2021

Please know that we will take all social distance precautions for BOTH the audience and actors – while still providing quality performances.  These are strange times, but YOUR health and safety is our priority, at THE ALLEY THEATRE.
Below we have listed our THREE REGULAR SEASON SHOWS in addition to our TWO NON-SEASON productions, in calendar order.
---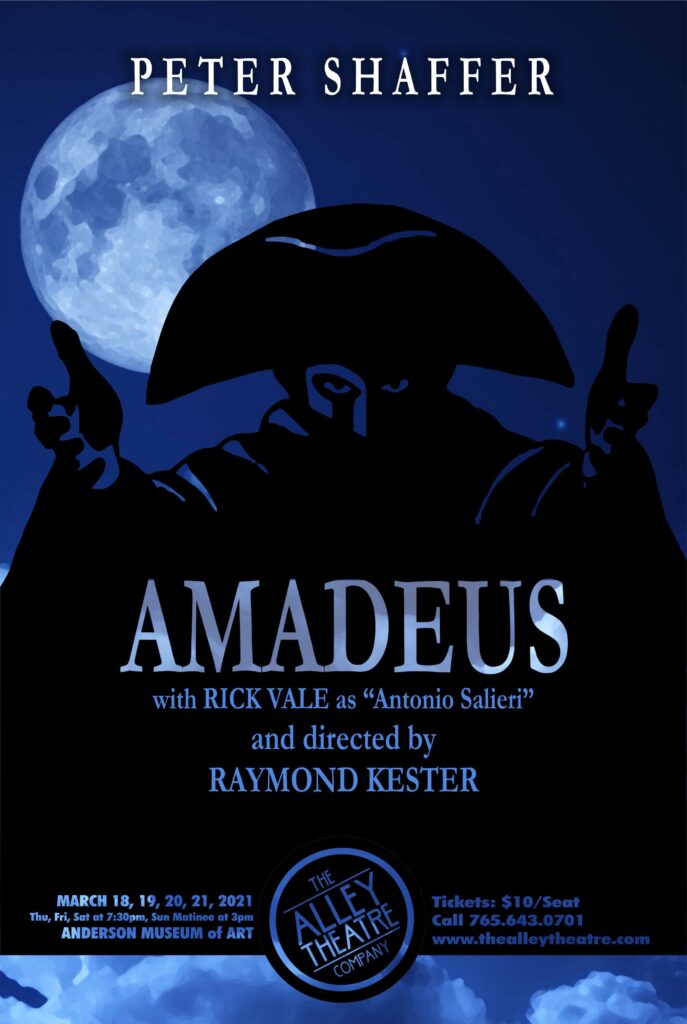 AMADEUS
by Peter Shaffer
MARCH
18, 19, 20, 21, 2021
Thu, Fri, Sat at 7:30pm
Sunday at 3:00pm
Anderson Museum of Art
Rick Vale appears as "Antonio Salieri" in this Tony Award Winning script by Peter Shaffer. The story, based on an Alexander Pushkin poem, suggests Court Composer Salieri had something to do with the younger, more brilliant composer, Wolfgang Amadeus Mozart's untimely death. Raymond Kester steps off THE ALLEY stage to direct this masterpiece in the beautiful setting of THE ANDERSON MUSEUM OF ART.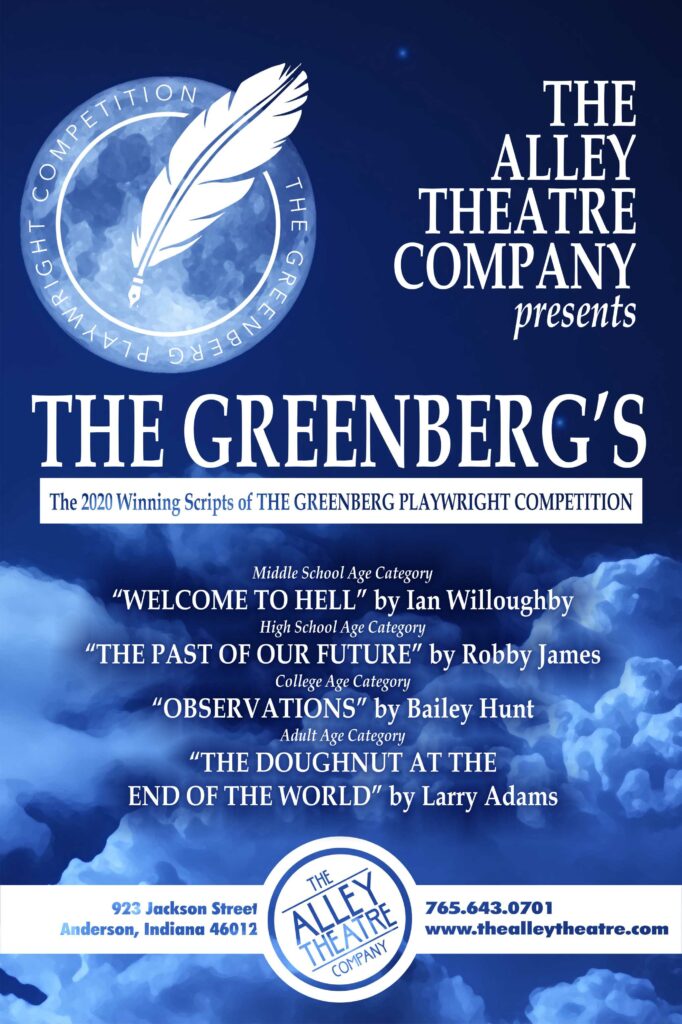 THE GREENBERG PLAYS
on YOUTUBE at
THE ALLEY THEATRE YouTube Channel
April 24, 2021
Enjoy the four winning scripts from the 2020 GREENBERG PLAYWRIGHT COMPETITION for local one-act plays.
These winning scripts will be filmed and posted on THE ALLEY THEATRE'S YouTube Channel (see link above) for free…May 1, 2021!
Winning Scripts performed this year:
Middle School Age Category
"WELCOME TO HELL" by Ian Willoughby
High School Age Category
"THE PAST OF OUR FUTURE" by Robby James
College Age Category
"OBSERVATIONS" by Bailey Hunt
Adult Age Category
"THE DOUGHNUT AT THE END OF THE WORLD" by Larry Adams
The state-wide competition is held each year to encourage playwrights of all experience levels and ages. Each winner receives a cash prize of $500, a summer work-shop of their script and this final performance.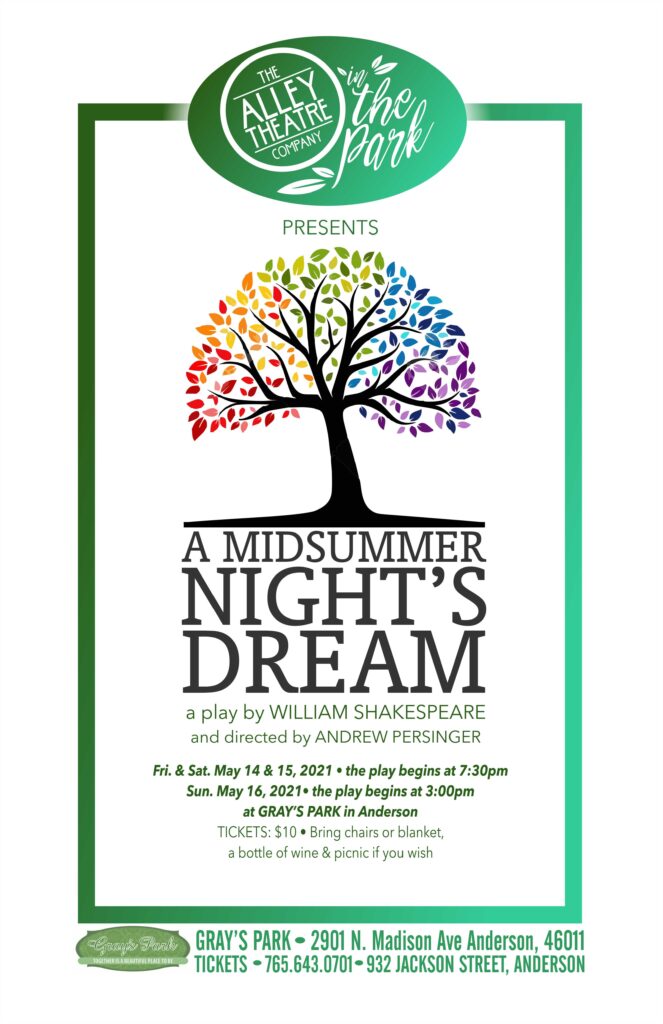 THE ALLEY at THE PARK presents
A MIDSUMMER NIGHT'S DREAM
by  William Shakespeare
MAY 14, 15, 16, 2021
Join us for William Shakespeare's "A MIDSUMMER NIGHT'S DREAM", directed by ANDREW PERSINGER.  This comic classic is the perfect script to be set in the verdant lawn of GRAY'S PARK, at the gazebo.
GRAY'S PARK is located at 2901 N Madison Ave, Anderson, IN 46011
Come, bring a picnic, a bottle of wine, some chairs/blankets and enjoy this wonderful show!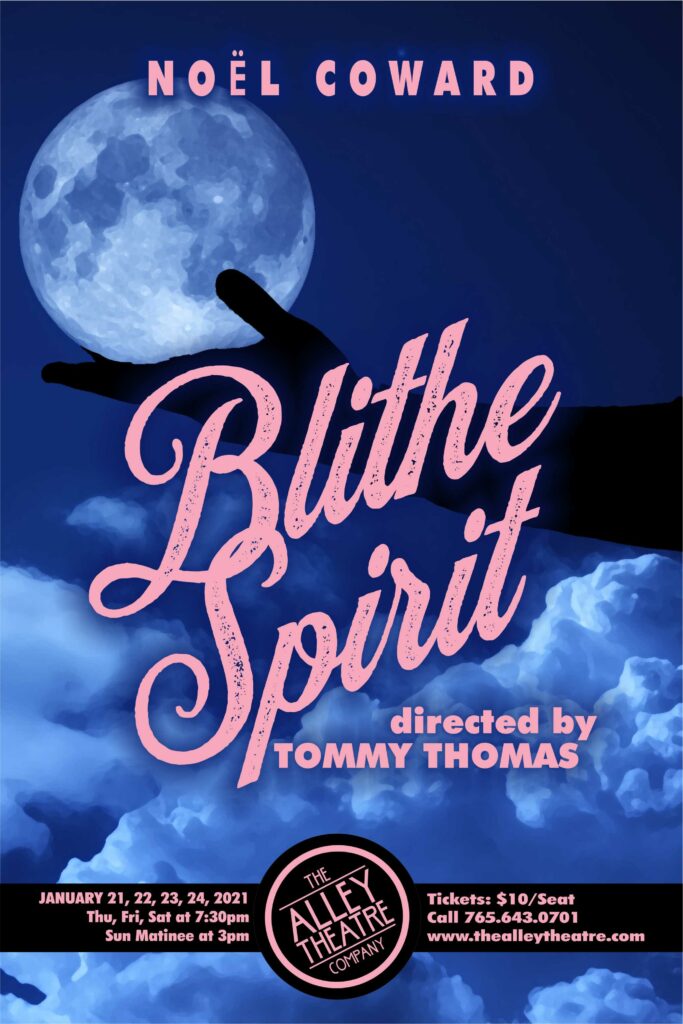 BLITHE SPIRIT
by  Noël Coward
JUNE 10, 11, 12, 13, 2021
Thu, Fri, Sat at 7:30pm
Sunday at 3:00pm
Opening in 1941, this Noël Coward comedy was an instant hit. As a novelist seeks to gather material for his next novel, by visiting the local, eccentric, clairvoyant and attending a seance, everything backfires as the ghost of his first wife soon begins to haunt him. Tommy Thomas makes his ALLEY THEATRE debut directing what is sure to be a group of comedic geniuses in this hilarious play certain to warm you up in cold January!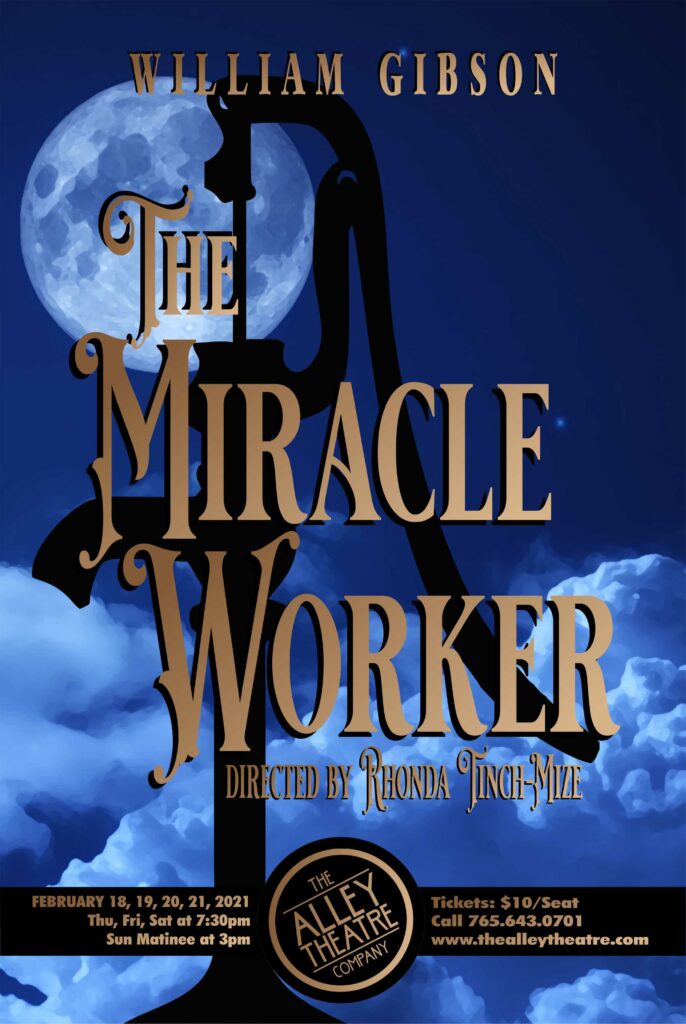 THE MIRACLE WORKER
by William Gibson
AUGUST 12, 13, 14, 15, 2021
Thu, Fri, Sat at 7:30pm
Sunday at 3:00pm
William Gibson's moving script tells the true story of the blind, deaf, and mute young girl, Helen Keller, and the "miracle" experience when she and her governess/teacher, Annie Sullivan, connected. Originally a "Playhouse 90 Teleplay" the three-act stage play premiered in 1959 with stars Anne Bancroft (Sullivan) and Patty Duke (Keller). Rhonda Tinch-Mize, no stranger to THE ALLEY, directs this wonderful story.
---
"AMADEUS", "BLITHE SPIRIT", and "THE MIRACLE WORKER" are included as REGULAR SEASON shows, with your GOLDEN TICKET ($30 for all three – includes concessions & priority seating)
Our next, 2021-2022 Season is also set, CLICK HERE FOR THE 2021-2022 SEASON BROCHURE
SEASON BROCHURE 2021-2022