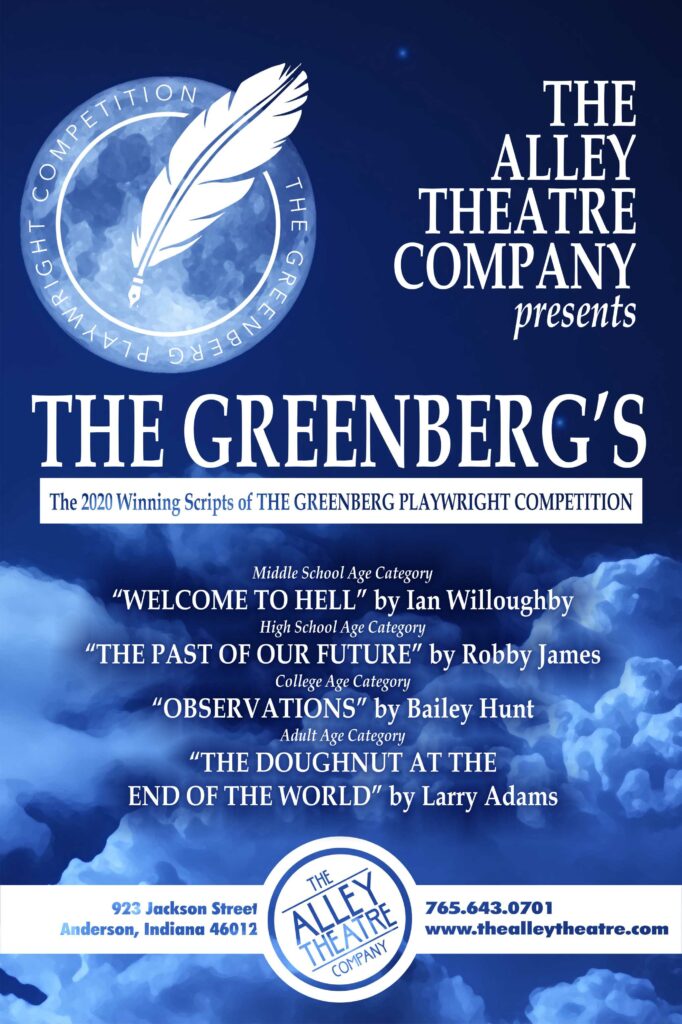 THE GREENBERG PLAYS
Saturday, September 26th • 7:30pm
Sunday, September 27th • 3:00pm
Please come enjoy the four winning scripts from the 2020 GREENBERG PLAYWRIGHT COMPETITION for local one-act plays. Tickets are $10 per seat and may be acquired by calling the BOX OFFICE MESSAGE CENTER (765.643.0701) or coming in to the CENTRAL CHRISTIAN CHURCH office (Tue-Fri / 9:00a-5:00p).
Winning Scripts performed this year:
Middle School Age Category
"WELCOME TO HELL" by Ian Willoughby
High School Age Category
"THE PAST OF OUR FUTURE" by Robby James
College Age Category
"OBSERVATIONS" by Bailey Hunt
Adult Age Category
"THE DOUGHNUT AT THE END OF THE WORLD" by Larry Adams
These performances are not included as a part of the GOLDEN TICKET / REGULAR SEASON.
The state-wide competition is held each year to encourage playwrights of all experience levels and ages. Each winner receives a cash prize of $500, a summer work-shop of their script and this final performance.
More details about the competition are available here:

---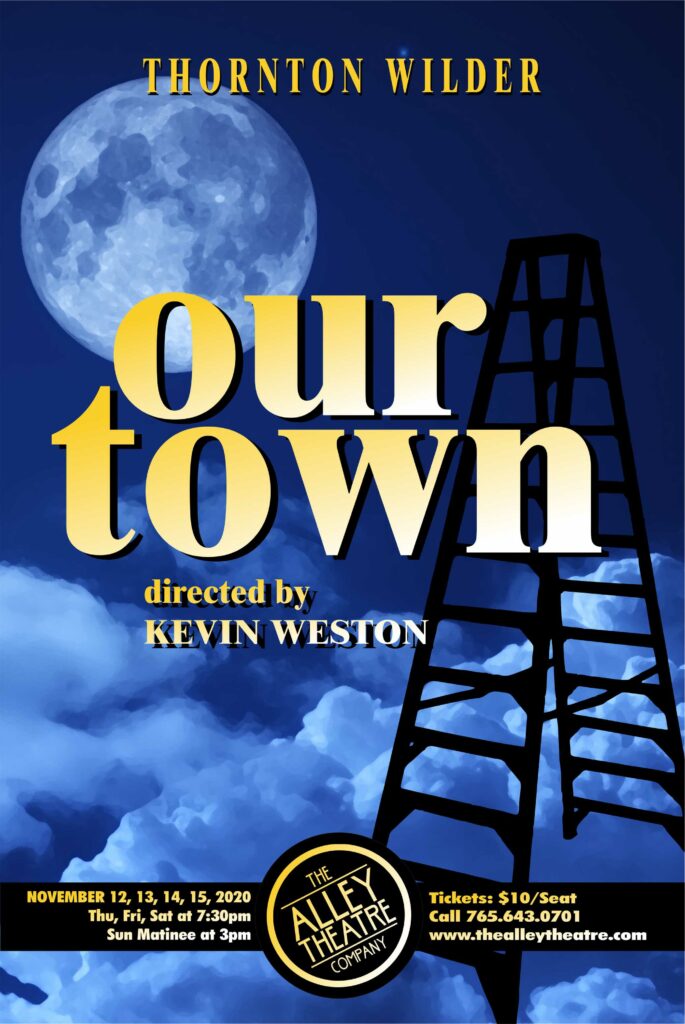 OUR TOWN
by Thornton Wilder
NOVEMBER
12, 13, 14, 15, 2020
Thu, Fri, Sat at 7:30pm
Sunday at 3pm
The ALLEY is proud to present this classic and Pulitzer Prize Winning script by Thornton Wilder. Set on a simple, almost bare stage, with the "Stage Manager" as storyteller, the everyday lives of the people in Grover's Corners are brought to the audience with warmth, humor, and passion. First performed in 1938, this script is now a "staple" of the theatre world. Kevin Weston, THE ALLEY's Co-Director, makes his directing debut in this, our opening production.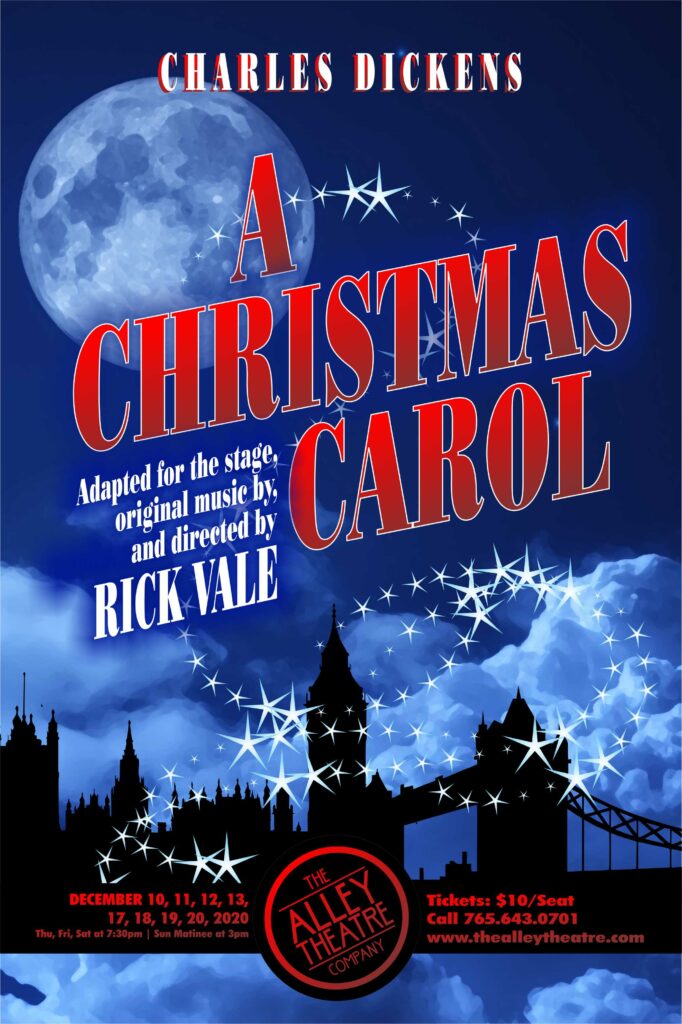 A CHRISTMAS CAROL
by Charles Dickens, adapted by Rick Vale
DECEMBER
10, 11, 12, 13, 17, 18, 19, 20, 2020
Thu, Fri, Sat at 7:30pm
Sunday at 3pm
Added Performances
Rick Vale's script and music of "A CHRISTMAS CAROL" has been performed in Anderson for over 25 years. Now, with updated edits, THE ALLEY THEATRE presents an all new production of this classic Charles Dickens novel for our December production. Rick Vale will direct the ensemble who, each playing several characters, come to life in the library of Charles Dickens himself (who also tells the story). ADDED PERFORMANCE DATES for this PRODUCTION.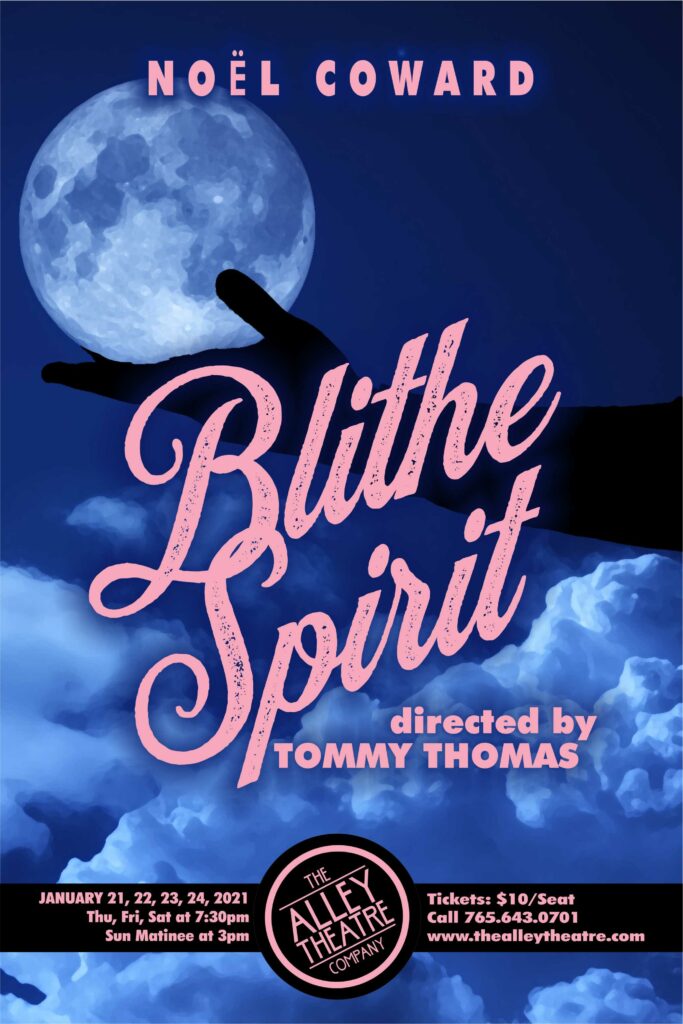 BLITHE SPIRIT
by  Noël Coward
JANUARY
21, 22, 23, 24, 2021
Thu, Fri, Sat at 7:30pm
Sunday at 3pm
Opening in 1941, this Noël Coward comedy was an instant hit. As a novelist seeks to gather material for his next novel, by visiting the local, eccentric, clairvoyant and attending a seance, everything backfires as the ghost of his first wife soon begins to haunt him. Tommy Thomas makes his ALLEY THEATRE debut directing what is sure to be a group of comedic geniuses in this hilarious play certain to warm you up in cold January!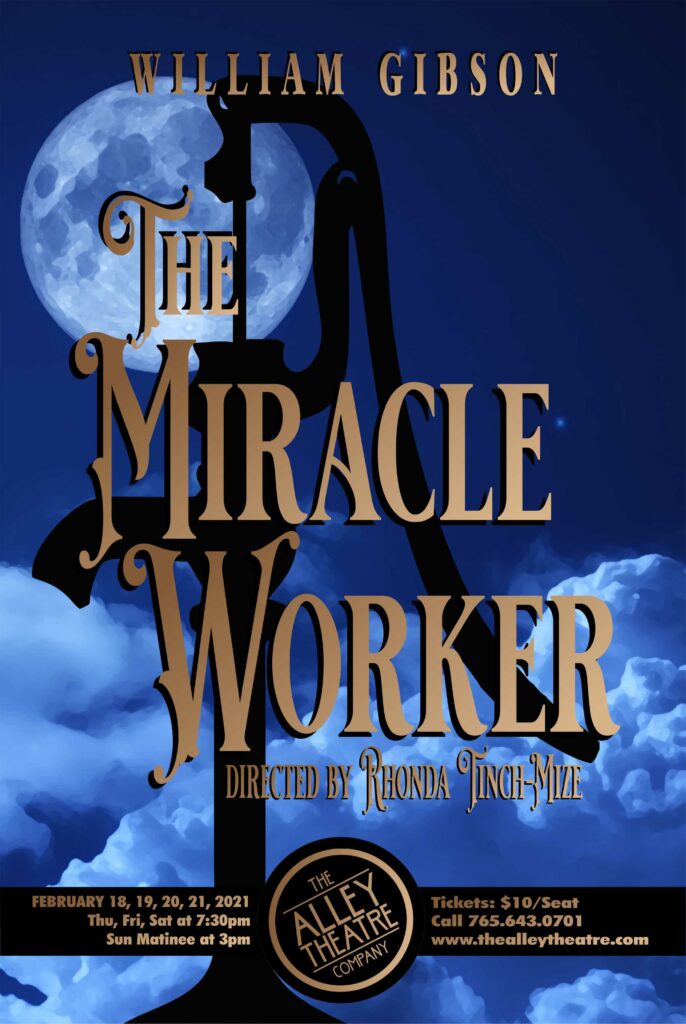 THE MIRACLE WORKER
by William Gibson
FEBRUARY
18, 19, 20, 21, 2021
Thu, Fri, Sat at 7:30pm
Sunday at 3pm
William Gibson's moving script tells the true story of the blind, deaf, and mute young girl, Helen Keller, and the "miracle" experience when she and her governess/teacher, Annie Sullivan, connected. Originally a "Playhouse 90 Teleplay" the three-act stage play premiered in 1959 with stars Anne Bancroft (Sullivan) and Patty Duke (Keller). Rhonda Tinch-Mize, no stranger to THE ALLEY, directs this wonderful story.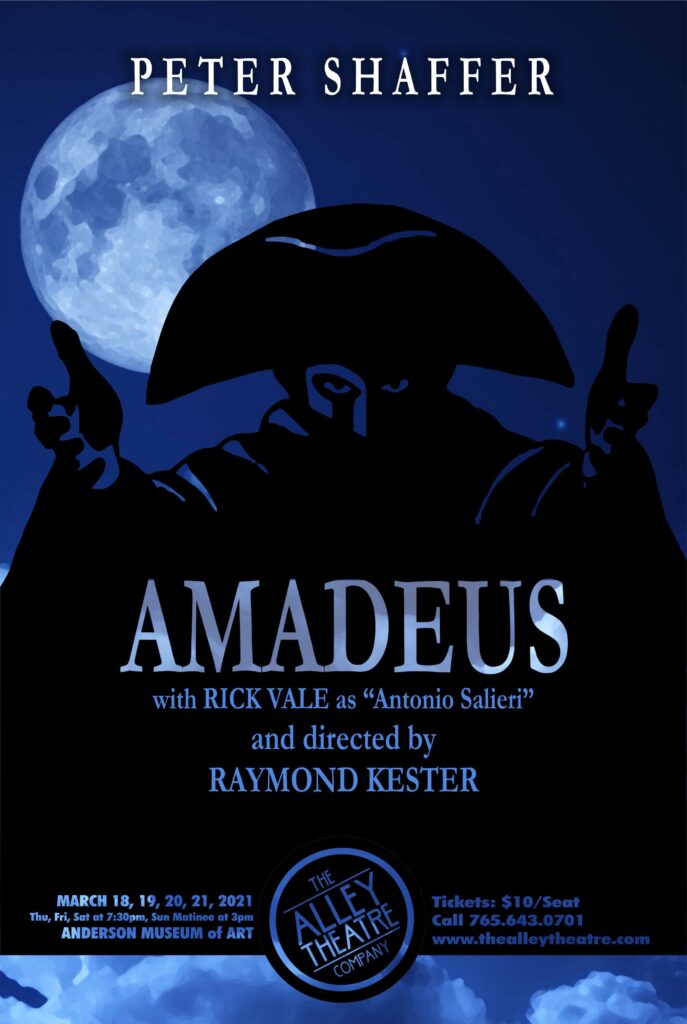 AMADEUS
by Peter Shaffer
MARCH
18, 19, 20, 21, 2021
Thu, Fri, Sat at 7:30pm
Sunday at 3pm
Anderson Museum of Art
Rick Vale appears as "Antonio Salieri" in this Tony Award Winning script by Peter Shaffer. The story, based on an Alexander Pushkin poem, suggests Court Composer Salieri had something to do with the younger, more brilliant composer, Wolfgang Amadeus Mozart's untimely death. Raymond Kester steps off THE ALLEY stage to direct this masterpiece in the beautiful setting of THE ANDERSON MUSEUM OF ART.
CLICK for a PDF Version of our SEASON BROCHURE
SEASON BROCHURE 2020-2021