As is "the norm" this year, we have had to make a few more adjustments to our SEASON, of course.  But NEVER FEAR, we are nothing if we're not creative!
Because the medical safety parameters currently are limiting our audience size to almost less than those in the cast, we have decided to move our production of "THE MIRACLE WORKER" from mid-February to mid-August when, hopefully, we will be able to accommodate more audience.
That makes "AMADEUS" our first show of the season.  As of this writing, we are still on for that production at the larger ANDERSON MUSEUM OF ART (same production dates in March) at 50% capacity (50 people each of the 4 performances).
THE GREENBERGS (performances of the winning scripts from the 2020 contest) will be POSTED ON OUR YOUTUBE CHANNEL instead of a live performance.  We have also missed a year of submissions, because of COVID so we will start accepting submission for the 2021 Competition May 1, 2021 – the deadline for submissions will be March 1, 2022 – then workshopped and rehearsed for performance April, 2023.
We have also postponed our "ALLEY CAT THEATRE CAMP" for kids from June 2021, to JUNE 2022.  We would like every family member who wants to attend the performance of "FIDDLER ON THE ROOF, JR." to be able to, as we attempt to fill up the performance space (The Central Christian Church sanctuary) instead of limiting the number of family who can attend.
Go to OUR SEASON to see the entire "run down", in calendar order, of our SEASON and NON-SEASON shows.
The safety and health of the audience AND actors is our primary concern.  When we do return to LIVE PERFORMANCES, please know that every effort will be made to follow health guidelines and keep everyone safe, comfortable, and entertained.
IN OTHER NEWS, & SOMETHING TO LOOK FORWARD TO -The dates for our 2021/2022 Season have been set, shows locked in, and directors in place.  Show titles will be announced at the performance of, "AMADEUS" (ironic, since that has now become the first show of our season) but you might want to get these dates on your calendars:
GENERAL AUDITIONS FOR THE SEASON – OCT 9 & 10, 2021
FIRST SHOW OF THE SEASON – NOV 11, 12, 13, 14, 2021
SECOND SHOW OF THE SEASON – DEC 9, 10, 11, 12, 16, 17, 18, 19, 2021
THIRD SHOW OF THE SEASON – JAN 20, 21, 22, 23, 2022
FOURTH SHOW OF THE SEASON – FEB 17, 18, 19, 20, 2022
DEADLINE FOR "GREENBERG" SUBMISSIONS – MARCH 1, 2022
FIFTH SHOW OF THE SEASON – MARCH 10, 11, 12, 13, 2022
"THE GREENBERGS" – SPECIAL SCREENING OF "THE DEALER SMILES" & 2021 WINNING SCRIPTS ANNOUNCED – APRIL 9, 10, 2022
ALLEY IN THE PARK – MAY 13, 14, 15, 2022
"ALLEY CAT THEATRE CAMP" FOR KIDS – JUNE 13-25, 2022
ALLEY IN THE PARK – AUGUST 5, 6, 7, 2022

CONGRATULATIONS TO OUR 2021 CASTS!
"AMADEUS" directed by RAYMOND KESTER
Antonio Salieri…RICK VALE
Wolgang Amadeus Mozart…MATT SOVERNS
Constanze Weber…SKYLA BRUNO
Joseph II…ANDY PERSINGER
Count Von Strack…DAVID WHICKER
Count Orsini-Rosenberg…CITO WYATT
Baron Swieten…KEVIN WESTON
Venticelli: REBEKAH BALE, TERESA DENNIS, LISA FOSTER, BRADLEY JENSEN, TYLER MARX, & MIKE ROMACK
THE ALLEY IN THE PARK: "A MIDSUMMER NIGHT'S DREAM"
directed by ANDREW PERSINGER & TIFFANY JACKSON
Puck…ZARAH SHEJULE
Oberon…RONN JOHNSTON
Titania…RHONDA TINCH-MIZE
Lysander…MATT SOVERNS
Demetrius…TYLER MARX
Helena…SKYLA BRUNO
Hermia…LIZ JUSTICE
Egeus…JOHN SKIPPER
Theseus…RICK VALE
Hippolyta…JAMIE CONWAY
Nick Bottom…TONY JOHNSON
Peter Quince…KAYLA CANGE
Francis Flute…KEVIN WESTON
Robin Starveling…ABIGAIL JOHNSON
Tom Snout…CYN SKIPPER
Snug…TANNER HANKINS
Philostrate…RAYMOND KESTER
Peaseblossom…CAMEELA ALLEN
Cobweb…SHAUNAE BEASLEY
Moth…REBEKAH BALE
Mustardseed…TAYLOR WILLIAMS
Dust Mote…BRADLEY JENSEN
Mud Pie…MIKE ROMACK
Corn Cob…CITO WYATT
Phil…CAMERON VALE
"BLITHE SPIRIT"
directed by TOMMY THOMAS
Charles Condomine…CITO WYATT
Ruth Condomine…RHONDA TINCH-MIZE
Elvira…TIFFANY JACKSON
Madame Arcati…NITA ARNOLD
Dr. Bradman…KEVIN WESTON
Violet Bradman…RALANA MILLER
Edith…JULIA BEELER
THE MIRACLE WORKER"
directed by RHONDA TINCH-MIZE & assisted by KATHLEEN WILE
Annie Sullivan…TIFFANY JACKSON
Helen Keller… VANESSA HARROLD
Captain Keller…. JAY WILE
Kate Keller… CYN SKIPPER
James Keller… TYLER MARX
Aunt Ev… JULIA BRATTON
Doctor/Man's Voice… JOHN SKIPPER
Viney…ZARAH SHEJULE
Martha… CAMEELA ALLEN
Percy… TANNER HANKINS
Jimmie Sullivan…BLAKE THOMAS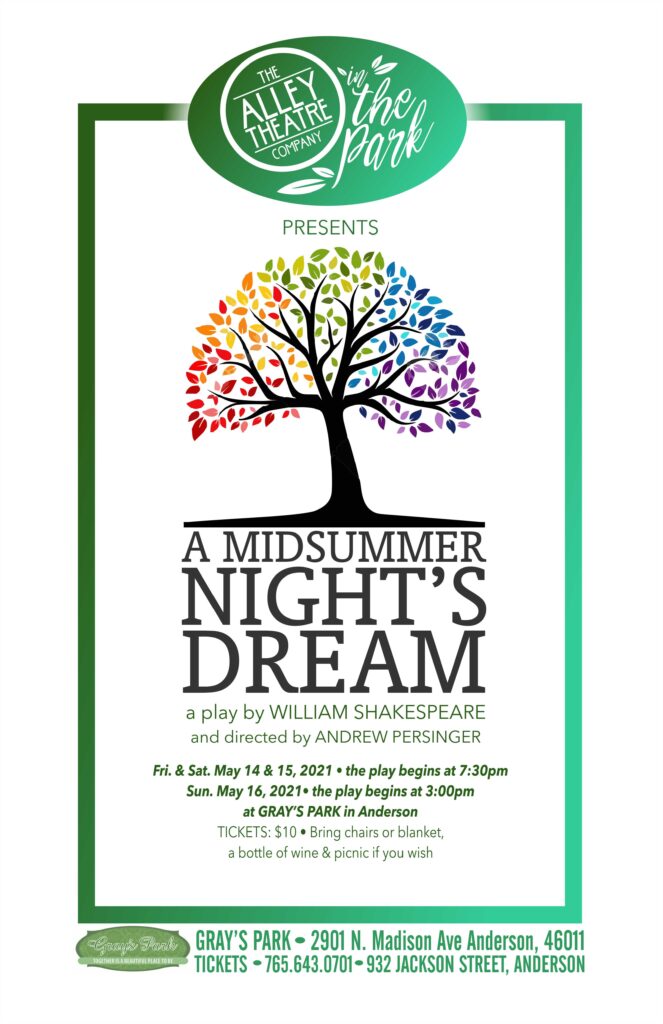 THE ALLEY THEATRE is proud to present, "THE ALLEY in THE PARK": theatre performances under the stars (or the sun, if it's a matinee) at GRAY'S PARK in Anderson.
We are so happy to partner with CATHY GRAY (Gray's Design Studio in Anderson, and the owner/manager of GRAY'S PARK Event Center) for some wonderful theatre/picnic/wine experiences in her newly-renovated and lovely park.
Tickets for all ALLEY IN THE PARK events will be sold from our own BOX OFFICE.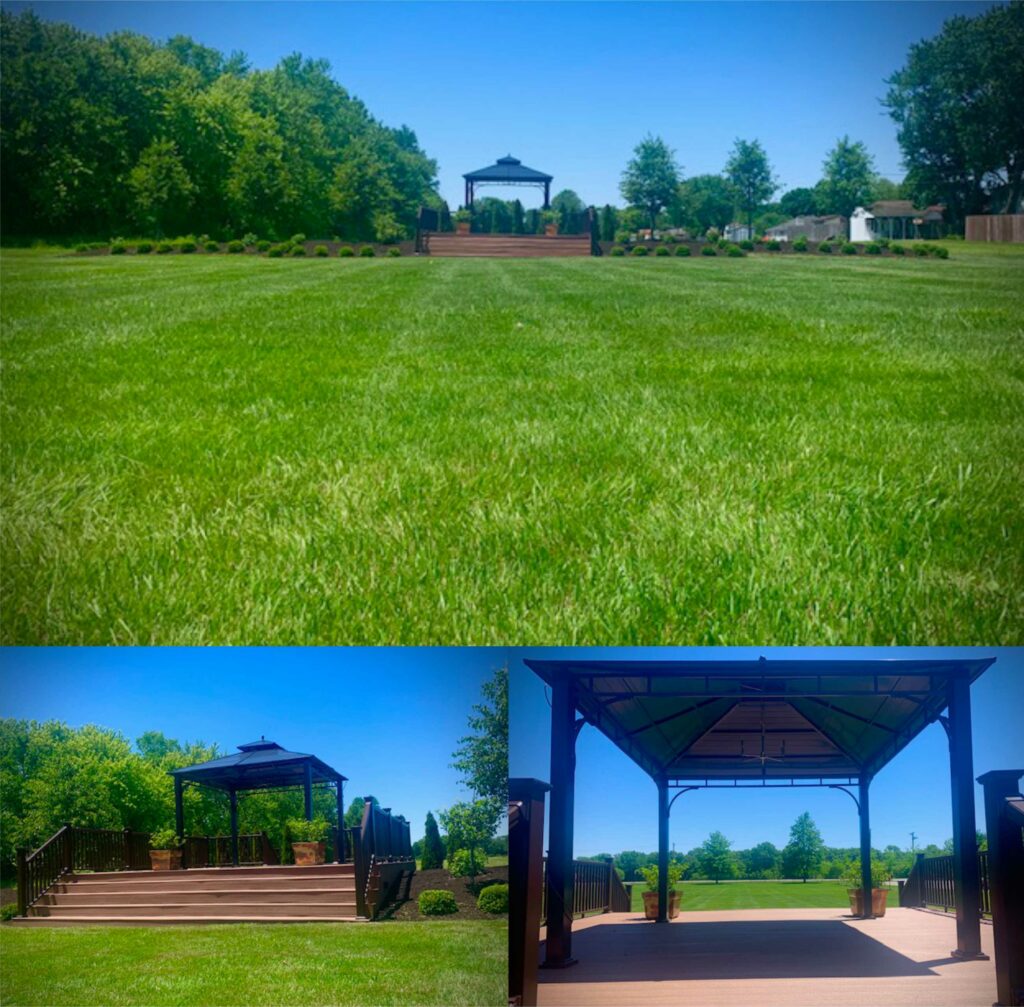 Join us at THE ALLEY IN THE PARK, May 2021 for "A MIDSUMMER NIGHT'S DREAM"
Click here for more information about THE ALLEY in THE PARK

THE ALLEY THEATRE, together with ANDERSON'S MAINSTAGE THEATRE, will be accepting donations at each performance for THE MALONE SCHOLARSHIP FOUNDATION: an ANDERSON UNIVERSITY scholarship awarded each year to a qualified MUSIC THEATRE major.
Perpetually honoring the life of BILL MALONE.
You can give online any time.  Simply click on the link below, or go to THE MADISON COUNTY FOUNDATION webpage, click on "GIVE", fill out the form at that page and select "THE BILL MALONE MEMORIAL SCHOLARSHIP FUND" – CLICK BELOW TO GO DIRECTLY TO THE GIVING PAGE.
THE MALONE SCHOLARSHIP FOUNDATION

THE GREENBERG PLAYS have been chosen for this year.  Our winning scripts from the 2020 competition are being work shopped by our Directors.  This year's scripts, writers and directors are: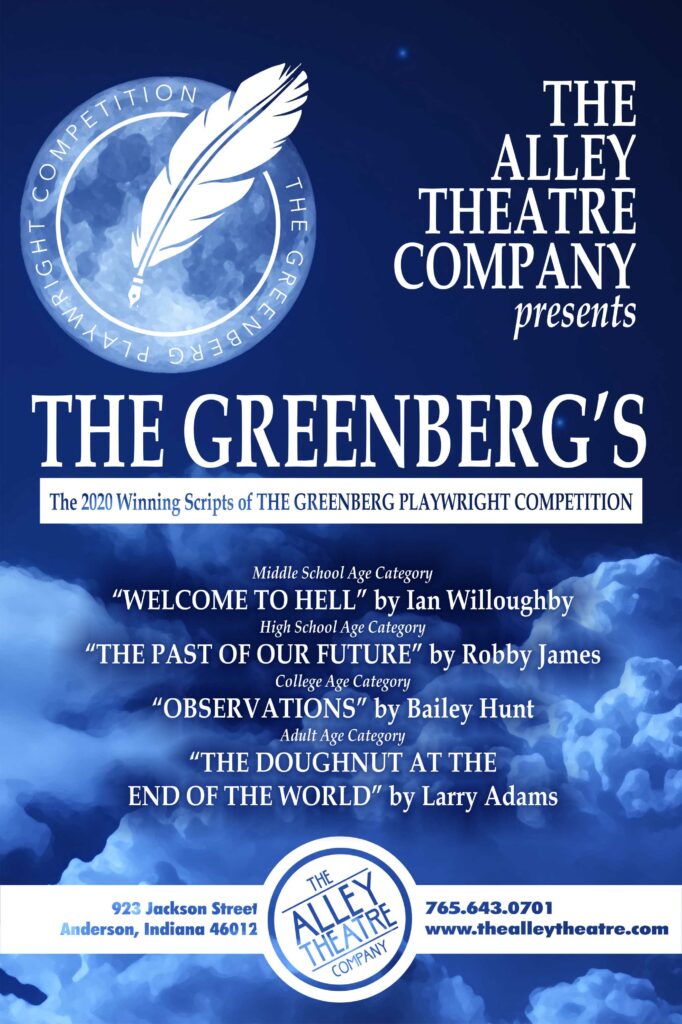 "WELCOME TO HELL" by Ian Willoughby
(Middle School Winner) – directed by Zarah Shejule
"THE PAST OF OUR FUTURE" by Robby James
(High School  Winner) – directed by Cyn Skipper
"OBSERVATIONS" by Bailey Hunt
(College Age Winner) – directed by Kirby Gilliam
"THE DOUGHNUT AT THE END OF THE WORLD" by Larry Adams 
(Adult Age Winner) – directed by Tiffany Jackson
All these one-act plays will be posted on our YOUTUBE CHANNEL, no "live" performances this year, APRIL 24, 2021!

Your TAX-DEDUCTIBLE DONATION to THE ALLEY THEATRE  helps us continue to bring quality performances to Madison County.   Please consider donating to our Seventh Season!
DIAMOND $1000+
2 GOLDEN TICKETS
Name(s) in PROGRAM and Lobby Ads,
EMERALD $500+
1 GOLDEN TICKET
Name(s) in PROGRAM and Lobby Ads,
RUBY $250+
2 Tickets to any show in the Season
Name(s) in PROGRAM and Lobby Ads,
SAPPHIRE $150+
1 Ticket to any show in the Season
Name(s) in PROGRAM and Lobby Ads,
PEARL $50-$149
Name(s) in PROGRAM and Lobby Ads,