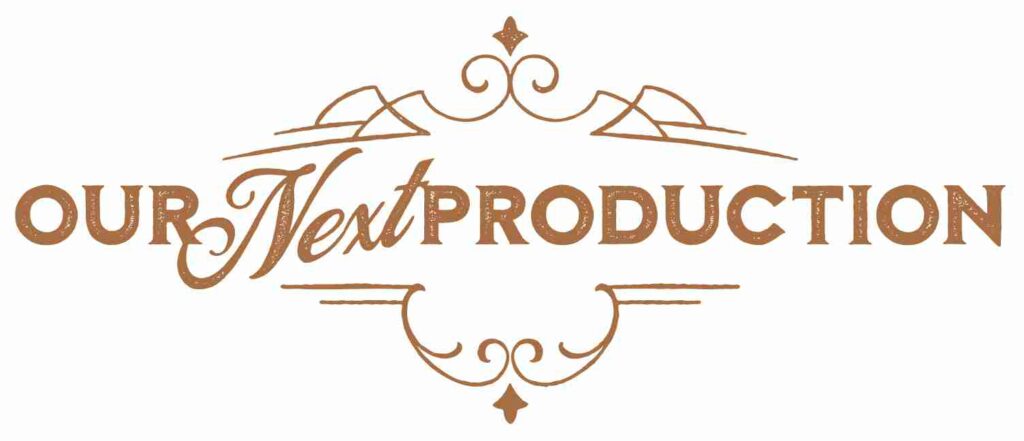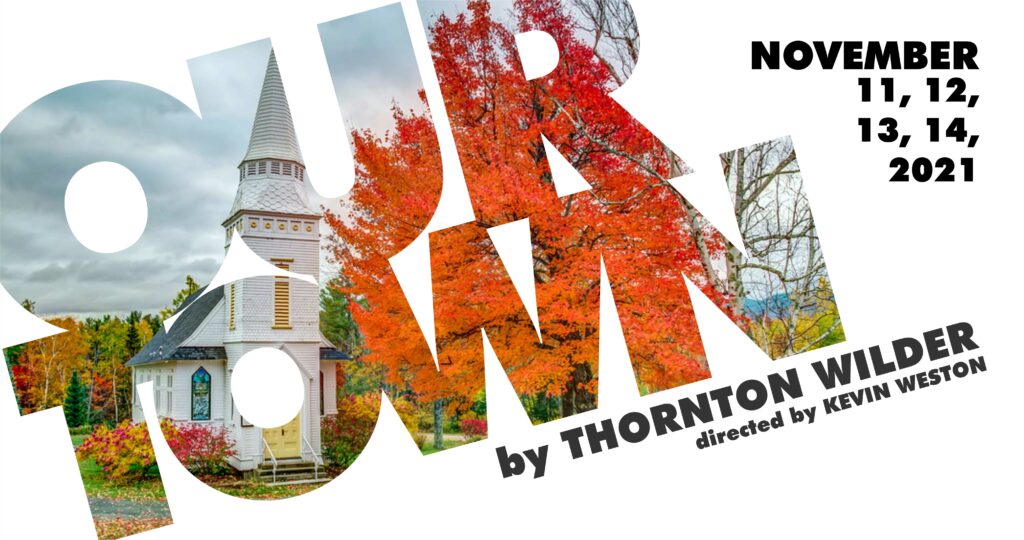 Join us for the FIRST PRODUCTION OF THE SEASON, "OUR TOWN"!  Check below for tickets to a PRE-SHOW DINNER, available for OPENING NIGHT!
REMEMBER: High School & College Students, presenting their STUDENT I.D.s, can always attend each production's opening night for $5!
OUR TOWN by Thornton Wilder
NOVEMBER 11, 12, 13, 14, 2021
Thu, Fri, Sat at 7:30pm | Sunday at 3:00pm
The Jake Hoover Theatre
The ALLEY is proud to present this classic and Pulitzer Prize Winning script by Thornton Wilder. Set on an almost bare stage, with the "Stage Manager" as storyteller, the everyday lives of the people in Grover's Corners are brought to the audience with warmth, humor, and passion. Premiered in 1938, this script is now a "staple" of the theatre world. KEVIN WESTON, THE ALLEY's Co-Director, makes his directing debut in this, our opening production.
STAGE MANAGER…Raymond Kester
Dr. GIBBS…Jay Wile
JOE CROWELL, Jr / SI CROWELL / BASEBALL PLAYER 1…Blake Thomas
HOWIE NEWSOME / BASEBALL PLAYER 2…Michael Smith
Mrs. GIBBS…Kayla Cange
Mrs. WEBB…Rhonda Tinch-Mize
GEORGE GIBBS…Ian Miller
REBECCA GIBBS…Lilly Thomas
WALLY WEBB…TBD
EMILY WEBB…Skyla Bruno
Prof. WILLARD / MAN AMONG THE DEAD…Jim Hunter
Mr. WEBB…John Skipper
WOMAN IN THE BALCONY / Mrs. SOAMES…Sherri Thornton
MAN IN THE AUDITORIUM / JOE STODDARD…Elmore Hammes
LADY IN BOX / Mrs. CARTER…Teresa Dennis
SIMON STIMSON…Andy Persinger
CONSTABLE WARREN…Mike Romack
SIMON STIMSON…Andy Persinger
CONSTABLE WARREN…Mike Romack
Our EIGHTH SEASON is in the works, and we are thrilled.  General Auditions were held in October and over 75 people came out to audition!  That is almost twice the number that has shown up for each of the preceding seasons.  Of those, almost 20 were brand new to THE ALLEY THEATRE, and over 20 are not from Anderson! Unfortunately we could only offer roles to 55 of those, as that is all we had to give…and we turned away many fine actors.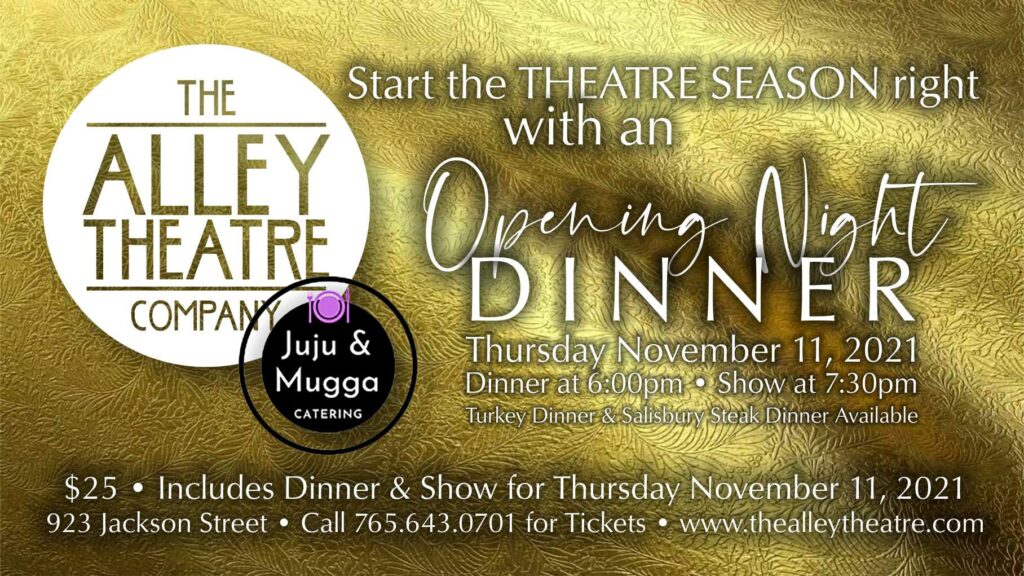 OPENING NIGHT of the SEASON brings something new: OPENING NIGHT OF THE SEASON DINNER! For $25 you can have a ticket for a wonderful dinner (catered by JUJU & MUGGA CATERING COMPANY) just down the hall from the theatre, AND the opening night show, that evening, of "OUR TOWN".  The meal will include your choice of Salisbury Steak or a Turkey Dinner, with sides, salads, dessert, and drinks.  If you've ever experienced JUJU & MUGGA then I don't need to say anything more, and if you haven't then you're in for a great surprise.  Call 765.643.0701 for your OPENING NIGHT OF THE SEASON DINNER tickets…and join us at 6:00pm November 11th.
This year we have added two summer, non-season, productions at GRAY'S PARK (2901 North Madison Avenue/Anderson): AGATHA CHRISTIE'S "THE MOUSETRAP" and "THE TEMPEST" by SHAKESPEARE.  Single tickets ($10) for those events are on sale now as well.
Check out all the show dates below and CLICK HERE for a PDF of the SEASON BROCHURE 2021-2022.
GOLDEN TICKETS (all 5 shows of the Season, priority seating, free concessions) are also on sale now (Call 765.643.0701) – Your GOLDEN TICKET includes the 5 Main Season shows only, single tickets are available for the ALLEY IN THE PARK productions this coming summer.

A CHRISTMAS CAROL a musical adaptation by RICK VALE
from the novella by CHARLES DICKENS
DECEMBER 10, 11, 12, 16, 17, 18, 19, 2021
Thu, Fri, Sat at 7:30pm | Sunday at 3:00pm
The Jake Hoover Theatre
Rick Vale's script and music of "A CHRISTMAS CAROL" has been performed in Anderson for over 30 years. Now, with updated edits, THE ALLEY THEATRE presents an all new production of this classic Charles Dickens novel for our December production. RICK VALE will direct the ensemble who, each playing several characters, come to life in the library of Charles Dickens himself (who also tells the story). ADDED PERFORMANCE DATES for this PRODUCTION.
THE ELEPHANT MAN by Bernard Pomerance
JANUARY 20, 21, 22, 23, 2022
Thu, Fri, Sat at 7:30pm | Sunday at 3:00pm
The Jake Hoover Theatre
Based on the life of John Merrick, this Tony- Award-Winning play is our 3rd show of the season. ANDREW PERSINGER directs the story of a horribly deformed young man – the victim of rare skin and bone diseases – as he evolves from a freak attraction in traveling sideshows to an urbane sophisticate…through the care of London's celebrated young physician Frederick Treves. Later adapted for the award-winning film, this script is certain to move you. 
ON GOLDEN POND by Ernest Thompson
FEBRUARY 17, 18, 19, 20, 2022
Thu, Fri, Sat at 7:30pm | Sunday at 3:00pm
The Jake Hoover Theatre
In this remarkable love story, Ethel and Norman Thayer return to their summer home on Golden Pond for the forty-eighth year. Norman is tart-tongued and observant as ever. Ethel is the perfect foil for Norman. When their divorced daughter & fiancé visit to drop off his teenage son for the summer, the Thayers gain the grandson they always wanted…along with some teenage awareness and slang. SHARON STAFFORD directs this amazing script.
TWELFTH NIGHT by William Shakespeare
MARCH 10, 11, 12, 13, 2022
Thu, Fri, Sat at 7:30pm | Sunday at 3:00pm
The Anderson Museum of Art
The ALLEY welcomes RONN JOHNSTON, seasoned director and actor, at his debut as director at THE ALLEY. He will set Shakespeare's magical play in, once again, THE ANDERSON MUSEUM OF ART. Love, shipwrecks, and mistaken identities fill this classic play, thought to be written as celebration for the end of the Christmas Season (12th Night: the 12th Day of Christmas).
An "Alley in the Park" production
THE MOUSETRAP by Agatha Christie
JUNE 10, 11, 12, 2022
Fri, Sat at 7:00pm | Sunday at 3:00pm
Gray's Park in Anderson (2901 North Madison Avenue)
Come see the longest-running play in history! This very, very, popular murder-mystery has been playing to full houses in London since 1953, and only closed last March because of the pandemic. This classic, directed by first-time ALLEY THEATRE director ZARAH SHEJULE, will entertain and captivate you, as only Dame Agatha can!
An "Alley in the Park" production
THE TEMPEST by William Shakespeare
AUGUST 5, 6, 7, 2022
Fri, Sat at 7:00pm | Sunday at 3:00pm
Gray's Park in Anderson (2901 North Madison Avenue)
This astounding comedy-tragedy begins with a storm at sea and ends with a "masque"-play-within-a-play, with a remote island in-between!
Filled with magic, music and memorable lines, RICK VALE directs this late-summer production to end our 2021-2022 year with wine and song!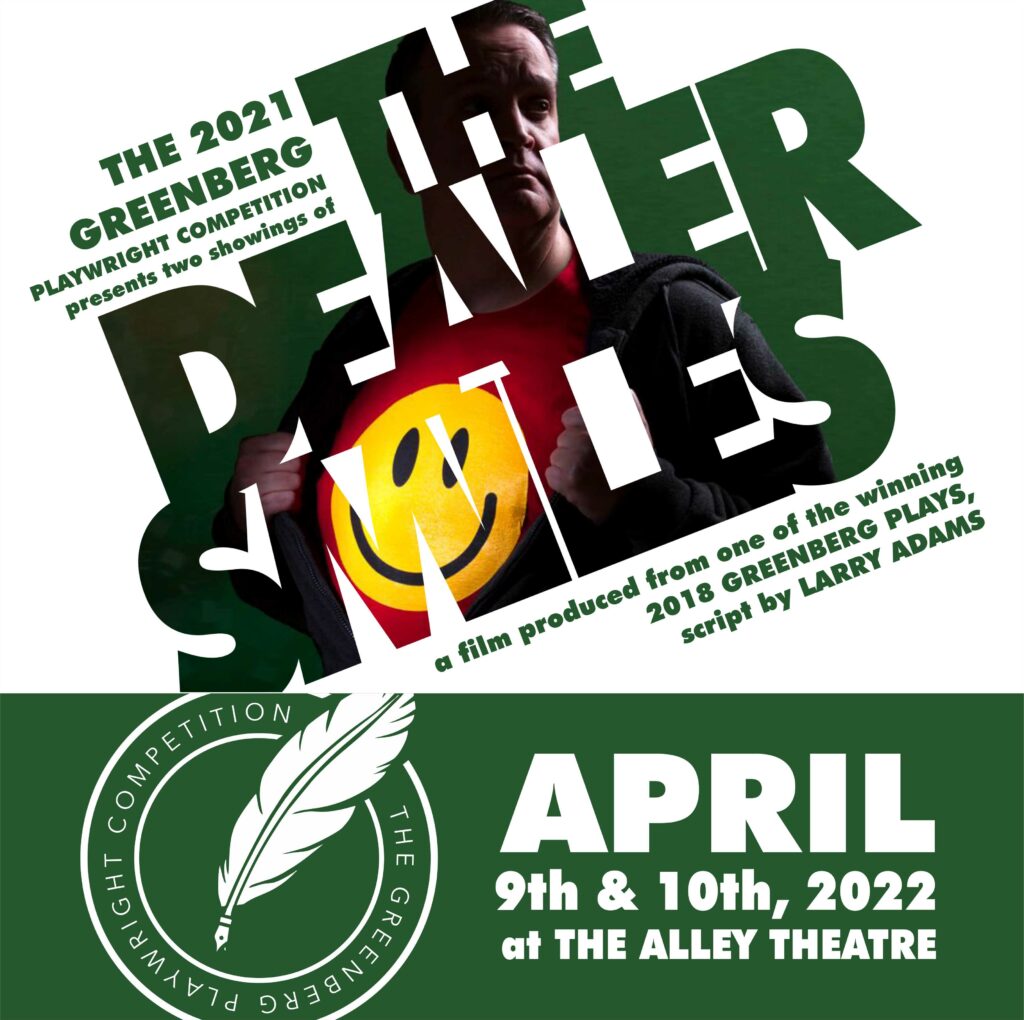 This season, a special screening of one of our past winning scripts, "THE DEALER SMILES" by Lawrence Adams will be shown APRIL 9th at 7:30pm & APRIL 10th at 3:00pm.  A special INTERVIEW/TALK BACK with the author (and star) of the movie will follow both performances (Call 765.643.0701 for your $10 ticket).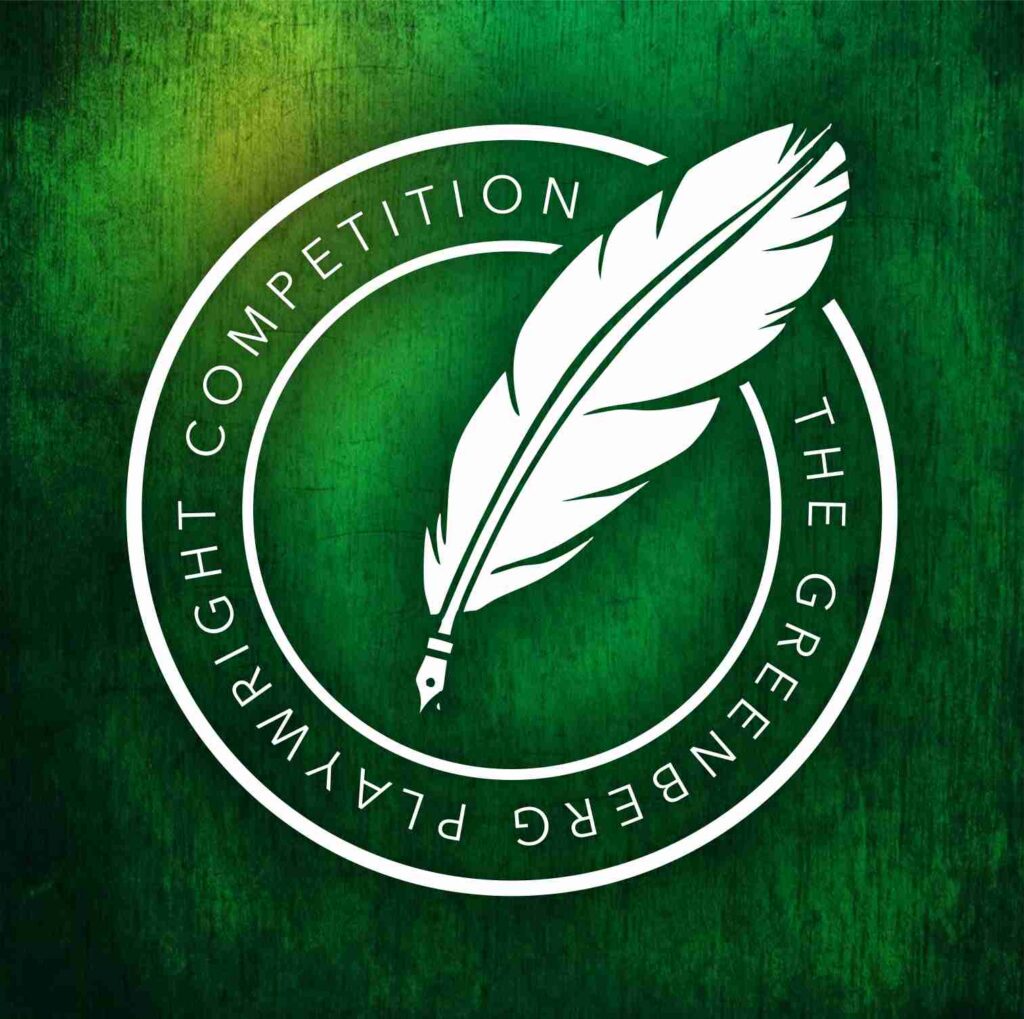 A CALL FOR SUBMISSIONS: Original scripts for this year's contest, are being solicited now.  Click here for details: 2021 CALL FOR SUBMISSIONS for 2022
Winners of this year's competition, and cash awards, will be announced at the screening of, "THE DEALER SMILES" April 9th & 10th.
Click here for more details:  The Greenberg Playwright Competition

THE ALLEY THEATRE, together with ANDERSON'S MAINSTAGE THEATRE, will be accepting donations at each performance for THE MALONE SCHOLARSHIP FOUNDATION: an ANDERSON UNIVERSITY scholarship awarded each year to a qualified MUSIC THEATRE major.
Perpetually honoring the life of BILL MALONE.
You can give online any time.  Simply click on the link below, or go to THE MADISON COUNTY FOUNDATION webpage, click on "GIVE", fill out the form at that page and select "THE BILL MALONE MEMORIAL SCHOLARSHIP FUND" – CLICK BELOW TO GO DIRECTLY TO THE GIVING PAGE.
THE MALONE SCHOLARSHIP FOUNDATION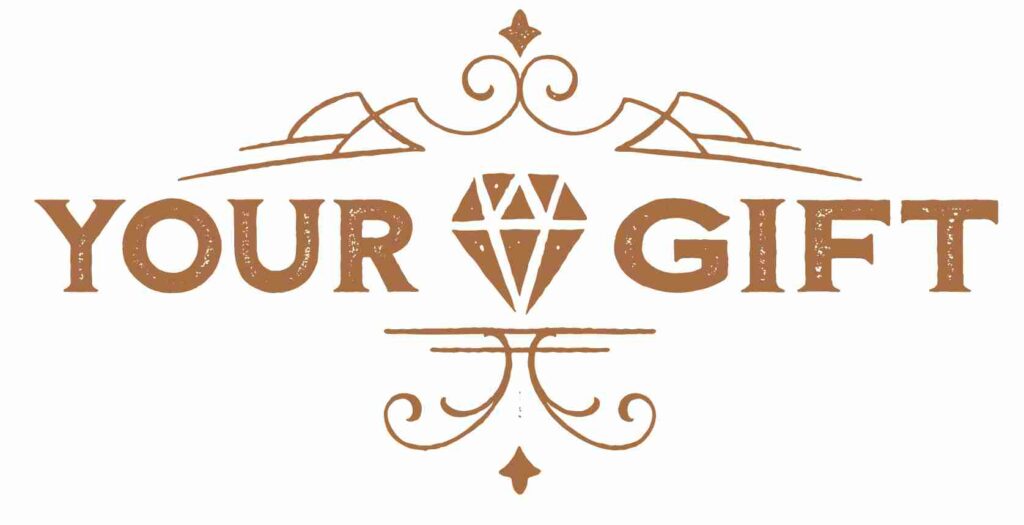 Your TAX-DEDUCTIBLE DONATION to THE ALLEY THEATRE  helps us continue to bring quality performances to Madison County.   Please consider a personal or corporate gift to support our EIGHTH SEASON!
DIAMOND $1000+
2 GOLDEN TICKETS
Name(s) in PROGRAM and Lobby Ads,
EMERALD $500+
1 GOLDEN TICKET
Name(s) in PROGRAM and Lobby Ads,
RUBY $250+
2 Tickets to any show in the Season
Name(s) in PROGRAM and Lobby Ads,
SAPPHIRE $150+
1 Ticket to any show in the Season
Name(s) in PROGRAM and Lobby Ads,
PEARL $50-$149
Name(s) in PROGRAM and Lobby Ads
Click here for more information on how YOU can support live theatre in Madison County – through THE ALLEY THEATRE: Be a JEWEL