The ALLEY THEATRE is, at this point, planning for the up-coming 2020/2021 Season with no scheduling changes.  All dates and productions, including THE GREENBERG PLAYS and GENERAL AUDITIONS (September and October) are still on the calendar as they stand (see THE SEASON page for dates).
THE ALLEY will keep options open, as things progress, as to guidelines for theatres (from the CDC and National Theatre Associations).  Any procedures needed to insure the health and safety of our audience and actors will be put into place.  Since the theatre space is small, there may be some adjustments in the way performances take place.  In any case THE ALLEY will continue to be creative; thinking of ways to present quality performances in a comfortable setting…even in these strange times.
Up-graded cleaning and disinfection procedures will be put into place in any case.
Single tickets for every show, and GOLDEN TICKETS for the season are currently on sale – call 765.643.0701 to order yours!
Another way you can help the theatre is to become a JEWEL and support THE ALLEY productions.  Ticket money is not used for production cost but, instead, is donated to CENTRAL CHRISTIAN CHURCH at the end of every season.  This way, even if THE ALLEY needs to limit the amount of audience for each performance, the production value would not be hindered.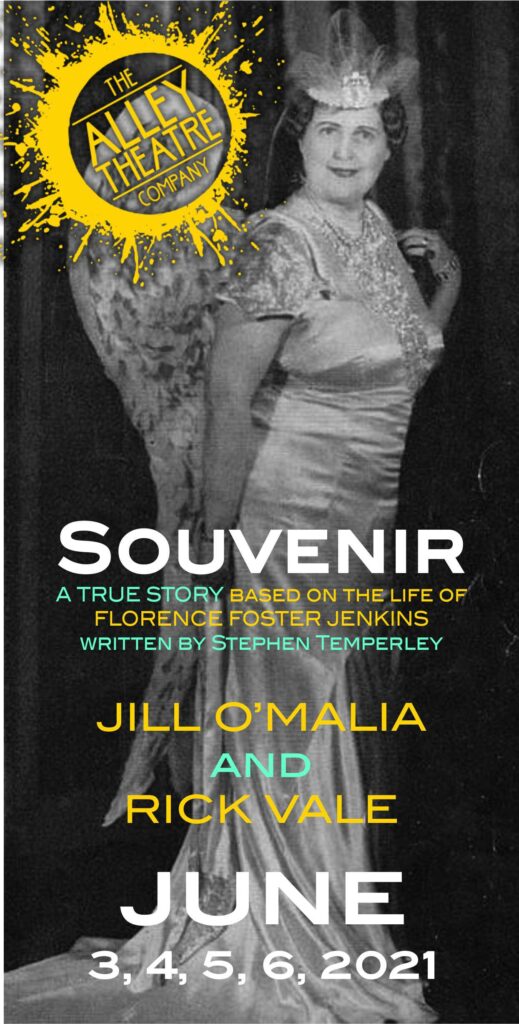 One production that has been affected by recent times is our special production of "SOUVENIR", originally scheduled for June of this year, this production has now been postponed to June 3, 4, 5, & 6, 2021.  This special production is a fund-raiser for THE ALLEY, each $20 ticket will include food and wine.  $10 Tickets will be available (without food and wine) at Thursday evening's performance.  A $60 ticket (for two) gives you a cocktail table, food, wine, chocolate and table service.  More details to follow.

THE GREENBERG PLAYS have been chosen for this year.  Our winning scripts from the 2020 competition are being work shopped by our Directors.  This year's scripts, writers and directors are: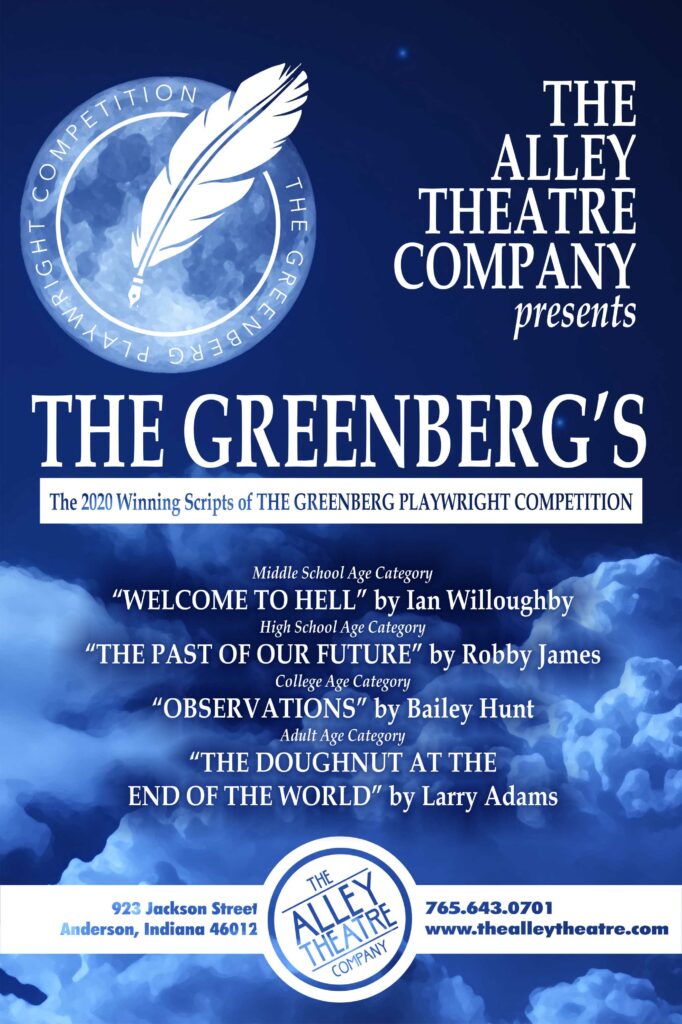 "WELCOME TO HELL" by Ian Willoughby
(Middle School Winner) – directed by Zarah Shejule
"THE PAST OF OUR FUTURE" by Robby James
(High School  Winner) – directed by Cyn Skipper
"OBSERVATIONS" by Bailey Hunt
(College Age Winner) – directed by Kirby Gilliam
"THE DOUGHNUT AT THE END OF THE WORLD" by Larry Adams 
(Adult Age Winner) – directed by Tiffany Jackson
All these one-act plays will be performed at THE ALLEY THEATRE Saturday, September 26th at 7:30pm and Sunday, Septebmer 27th at 3:00pm.  Tickets are $10 and available by calling 765.643.0701.

Auditions for ALL SHOWS will be held at THE ALLEY THEATRE Saturday, October 10th and Sunday, October 11th – both days from 2:00pm to 5:00pm.  Everyone is welcome to audition, no matter what experience level they may have.  There are roles for Grade School-aged children, Middle School and High School aged Children, Young, Middle-Aged, and Senior Adults.
Those auditioning should prepare to present a comic and dramatic monologue.  Those auditioning for A CHRISTMAS CAROL will be asked to sing 16-bars as well.  There is a specific role for a solo dancer in that production.
We will be casting for all roles in: "OUR TOWN", "A CHRISTMAS CAROL", "BLITHE SPIRIT", and  "THE MIRACLE WORKER". In "AMADEUS", all roles except the role of "Salieri" are open for casting. Information about CHARACTERS and shows will be posted at a later date this summer.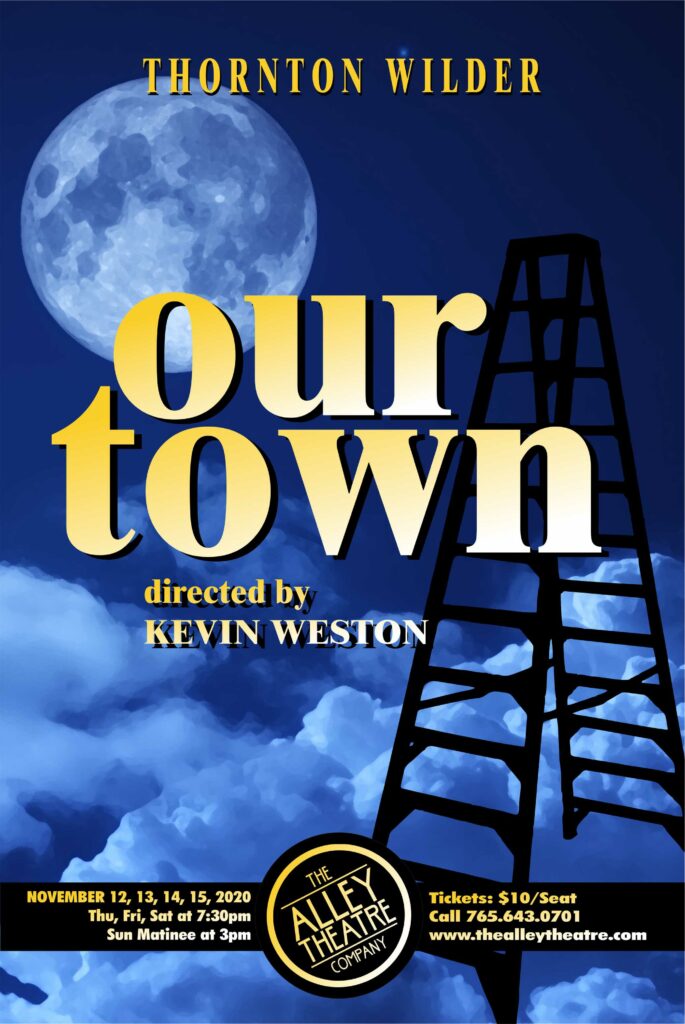 The ALLEY is proud to present this classic and Pulitzer Prize Winning script by Thornton Wilder. Set on a simple, almost bare stage, with the "Stage Manager" as storyteller, the everyday lives of the people in Grover's Corners are brought to the audience with warmth, humor, and passion. First performed in 1938, this script is now a "staple" of the theatre world. Kevin Weston, THE ALLEY's Co-Director, makes his directing debut in this, our opening production.

Your TAX-DEDUCTIBLE DONATION to THE ALLEY THEATRE  helps us continue to bring quality performances to Madison County.   Please consider donating to our 2020-2021 Season!
DIAMOND $1000+
2 GOLDEN TICKETS
Name(s) in PROGRAM and Lobby Ads,
Eternal Gratitude
EMERALD $500+
1 GOLDEN TICKET
Name(s) in PROGRAM and Lobby Ads,
Eternal Gratitude
RUBY $250+
2 Tickets to any show in the Season
Name(s) in PROGRAM and Lobby Ads,
Eternal Gratitude
SAPPHIRE $150+
1 Ticket to any show in the Season
Name(s) in PROGRAM and Lobby Ads,
Eternal Gratitude
PEARL $50-$149
Name(s) in PROGRAM and Lobby Ads,
Eternal Gratitude