THE ALLEY THEATRE presents, "THE ALLEY IN THE PARK": offering outdoor productions at GRAY'S PARK in Anderson, Indiana.
Join us for William Shakespeare's "A MIDSUMMER NIGHT'S DREAM", directed by ANDREW PERSINGER.  This comic classic is the perfect script to be set in the verdant lawn of GRAY'S PARK, at the gazebo.
---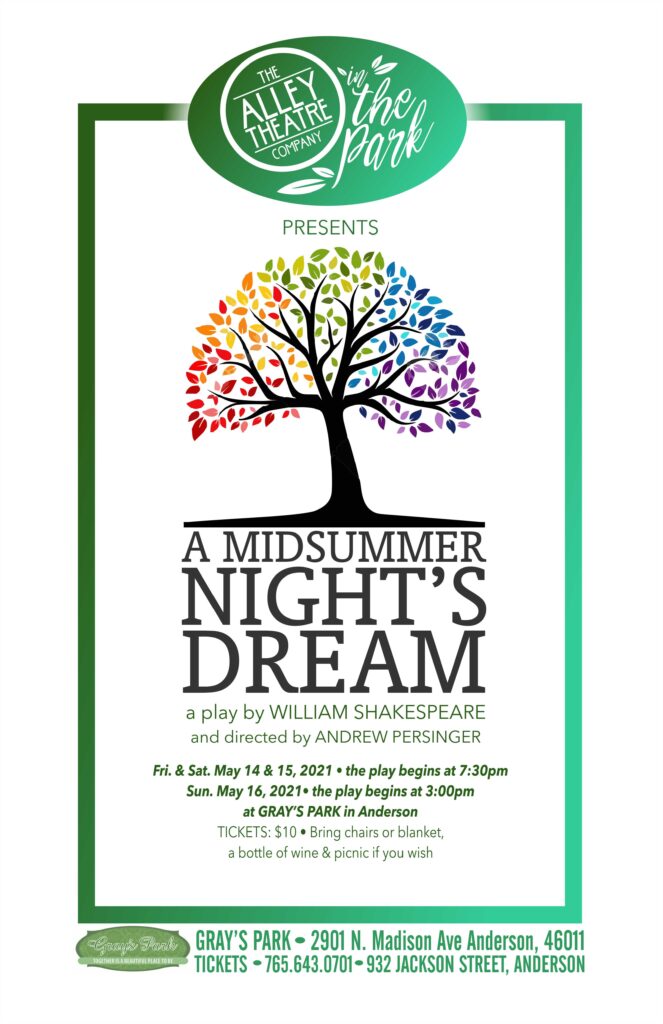 It's a story of order and disorder, reality and appearance and love and marriage. Theseus (the Duke of Athens) & Hippolyta (the Queen of the Amazons) are to be married and great celebrations are planned.
There's also the story of Egeus and his rebellious daughter Hermia.  He wants her to marry Demetrius but Hermia refuses, because she's in love with Lysander. The Duke orders Hermia to obey her father or, according to Athenian law, she must face a death penalty or enter a convent.
Hermia and Lysander decide to elope that night. They confide in their friend Helena. However, she's secretly in love with Demetrius so, hoping to win his affection, she tells him of Hermia's plan. That night, all four lovers set out into the forest.

Meanwhile, a group of Athenian tradesmen are planning to perform a play in celebration of the Duke's wedding. They rehearse The Tragedy of Pyramus and Thisbe in the same forest.
Elsewhere in the forest, the fairy king and queen, Oberon and Titania, argue over Titania's refusal to give up her page-boy to Oberon. He sends his servant Puck to find a magic plant to cast a spell on Titania.

ALL THESE STORIES come together on a wonderful "midsummer night" in the "dreamy" park/forest. 
---
This production takes place at the lovely GRAY'S PARK,
2901 N Madison Ave, Anderson, IN 46011
COME EARLY – bring a picnic, a bottle of wine, some chairs/blankets and enjoy this wonderful show! 
(Food will also be available, for purchase, from EARL B. QUE CATERERS.)
---
TICKETS ($10) are available by calling
THE ALLEY THEATRE BOX OFFICE MESSAGE CENTER (765.643.0701) or by visiting THE CENTRAL CHRISTIAN CHURCH OFFICE
(Tue-Fri/9a-5p – 923 Jackson Street, Anderson).

---
THE ALLEY IN THE PARK: "A MIDSUMMER NIGHT'S DREAM"
directed by ANDREW PERSINGER assisted by TIFFANY JACKSON
THE CAST
Puck…ZARAH SHEJULE
Oberon…RONN JOHNSTON
Titania…RHONDA TINCH-MIZE
Lysander…BRADLEY JENSEN
Demetrius…TYLER MARX
Helena…SKYLA BRUNO
Hermia…LIZ JUSTICE
Egeus…JOHN SKIPPER
Theseus…RICK VALE
Hippolyta…JAMIE CONWAY
Nick Bottom…TONY JOHNSON
Peter Quince…KAYLA CANGE
Francis Flute…KEVIN WESTON
Robin Starveling…TBA
Tom Snout…CYN SKIPPER
Snug…TANNER HANKINS
Philostrate…RAYMOND KESTER
Peaseblossom…CAMEELA ALLEN
Cobweb…SHAUNAE BEASLEY
Moth…BEKAH BALE
Mustardseed…TAYLOR WILLIAMS
Dust Mote…LISA FOSTER
Mud Pie…MIKE ROMACK
Corn Cob…CITO WYATT
Phil…CAMERON VALE